It's a good thing our returning chefs were able to scrape the rust off their knives during last week's inaugural episode of the All-Stars edition (we'll remember you fondly, Elizabeth). Because if the red eyes and requests for coffee on Sunday night's follow-up installment were any indication, this competition is going to be a little more grueling than these guys remember.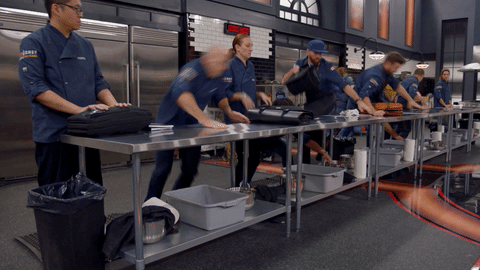 Trevor's last name is actually Gazelle, not Bird.
The eleven remaining chefs seemed to take it all in stride at least, diving (or in some cases Top Chef parkour-ing) right into the night's opening Quickfire Challenge with plenty of gusto. Which is actually saying something considering the entire mise en place, "Chef Nerd Olympics" challenge basically consisted of grunt-work that chefs of this caliber can now hire minions to do for them. There's a reason executive chefs usually have fancier jackets than the rest of the kitchen staff, you know.
Still, we got a real sense that for these guys it was fun to filet fish under head judge Mark McEwan's "laser beam" glare, dice up shallots into perfect brunoise cuts without shedding a single tear, and stop "shucking around" with some juicy oysters. Hey, host and punmaster Eden Grinshpan isn't the only one who can have fun with wordplay here.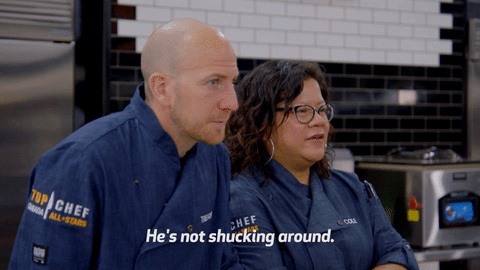 Connie, who was pretty confident in her ability to whiz past the competition since she excelled at this challenge in the first season, fell short when she failed to remove all of the bones from her bass in the first round. It was the start of an off night for the chef, who eventually revealed why to the cameras. Turns out she's been carrying around a pretty big burden: her mother was diagnosed with Stage 4 stomach cancer and was given roughly eight months to live. Obviously Connie was feeling pretty guilty about leaving for a month to do the show, but her mom told her that if she didn't win, not to come home. Talk about extreme pressure – we'd probably have a few off nights too.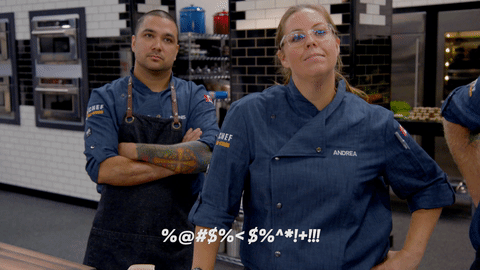 What's that you say, Dennis? It's not enough time?
Anyhow, in the end it came down to Andrea and oyster-shucking king Dennis, who both proved they could be the best sous-chefs anywhere with their chop-chop abilities. But the real question was who could make the best dish out of those ingredients in 15 short minutes? Geesh. We mean, sure—seafood doesn't take as long to cook as other proteins, but we can barely get water to boil in that time, let alone prepare an elegant dish for a hungry host and head judge. Who, by the way, were salivating so hard at what we can only imagine were amazing smells wafting up from the Monogram Kitchen that we got super hungry at home. So much for watching this show on an empty stomach.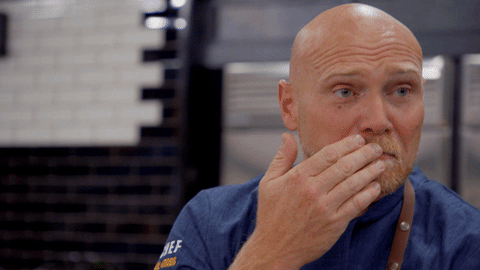 That's real nice, guys. Laugh at how frantic Dennis is during the Quickfire challenge.
It was Andrea's Oysters Poached in Crème Fraîche with White Wine Butter Sauce and Seared Sea Bass that won her immunity in the Elimination Challenge though, even though Dennis's Canh Chua, a Vietnamese Sweet & Sour Soup with Tamarind Broth, Poached Sea Bass and Poached Oysters looked equally appetizing. Now those are two dishes you can't get at Red Lobster.

Andrea's Seared Sea Bass With Oysters Poached in a Crème Fraîche White Wine Butter Sauce

Dennis' Sweet and Sour Vietnamese Soup With Tamarind Broth-Poached Sea Bass and Poached Oysters
After all that hard work, we'd say the chefs earned themselves a nice little repose. Maybe a cold cocktail with an umbrella while they put those steel-toed boots up for a bit and maybe even sucked back some of those shucked oysters, right? Wrong. Those remaining oysters must have gone to the production crew because the Elimination Challenge was up next and one of Toronto's hottest chefs, Susur Lee, was coming in to guest judge. Again, no pressure or anything.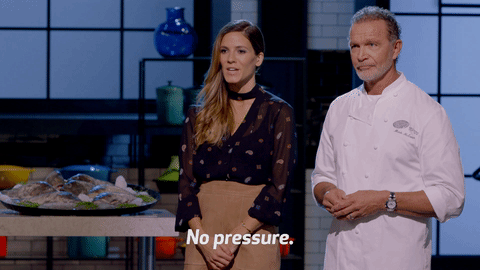 The task itself was pretty simple: create a dish inspired by a world-famous food market. The catch? This Top Chef Canada caliber dish would then be served to 75 very hungry foodies. Obviously, our invites were lost in the mail. Dennis and Jonathan pulled Mexico City postcards from the giant mailbox that was wheeled into the Monogram Kitchen, meaning they got to cook up some Mexican fare. Connie and Trevor got Vietnam's Bac Ha, Trista and Todd pulled Rio De Janeiro, Jesse and Dennis were all about Madrid, and Curtis and Nicole pulled Brussels postcards from the box. Actually, Nicole could barely reach her card thanks to her short arms, proving that sometimes the struggle is real for the vertically challenged folk out there. As for Andrea, well she got to pick from any of the markets as part of her reward for winning the Quickfire, and so she picked Brussels as an homage to her Brussels-born mum.
Here's the thing about making a dish for 75 people: even though the chefs had a decent budget ($350 to spend at McEwan Foods) and two hours to prep in the Monogram Kitchen, they were only given 10 minutes to actually plot out their menus. If that were us, we'd spend roughly seven of those minutes staring blankly at our cards before scribbling something illegible in our remaining time.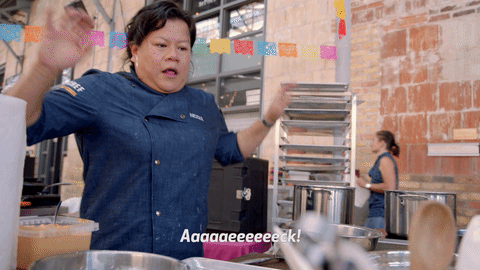 Nicole is totally handling the pressure well. 
Obviously these guys had more ideas than we would, but they ran into some problems too. Nicole's waffle batter didn't turn out the way she'd wanted, forcing her to re-imagine her Morocco Dog with spiralized, crispy potatoes. (Viewers take note—you can spiralize something other than a zucchini.) Meanwhile Dennis's empanada batter was actual garbage; we know this because he dumped it angrily into the trash when he realized he didn't have time to start over. So he did a toast of sorts instead and presented the judges with what became the winning dish of the night: 'Nduja Prawn Toast a.k.a. a fancy-schmancy open-faced sandwich consisting of shrimp, quail egg and salsa. For the record, we would totally travel to Madrid to eat that.
Dennis' 'Nduja, Prawn and Quail Egg on Toast with Romesco and Salsa Verde

Oh and as for Andrea? Well she certainly didn't take her immunity for granted, and pumped out a Salt and Sugar-Cured Salmon with Apple Fennel Slaw & Bacon Beer Aioli. She didn't make it to the top three though (Trista and Nicole were the ones to stand alongside the Dennis for that honour), but that could have also been because judge Chris Nutall-Smith was jealous of Andrea's glasses. (Twinning!)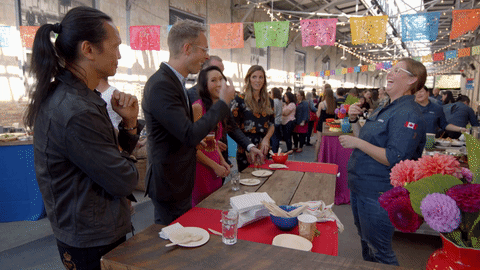 Apparently one market we'll be staying away from in the near future is Bac Ha; at least we will be if Connie and Trevor are making the morsels. Even though their respective salads looked pretty they were underdressed and in Trevor's case, topped with overcooked meat.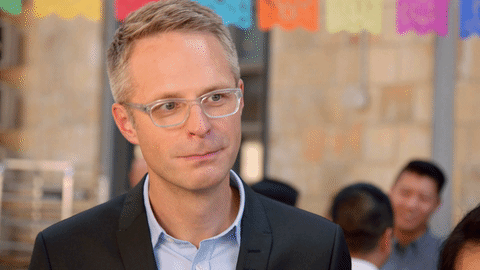 Chefs: when Chris makes this face, be very afraid.
Luckily these guys were both saved by a worse dish in the end: Todd's Cod Salad with Fresh & Salt Cod, Capelin & Tomato Salsa. The offering was supposed to be inspired by Rio De Janeiro, but it was obvious that Todd didn't know what that meant. He basically told the cameras as much. So the Newfoundland chef fell back on flavours he knew instead and then got a little defensive with judges Mark McEwan, Mijune Pak and Nutall-Smith when they said it was a fail. Trevor, standing next to Todd at judges' table, wasn't the only one shaking his head in the tense situation; we get Todd wanting to defend his dish (that was his province on a plate, after all), but sometimes you've just got to pick your battles. And telling the judges they're not used to your kind of food might not be the best way to convince them to keep you around.
In the end it was obvious that Todd just didn't care to stick around as much as Trevor or a tearful Connie, who told the other chefs that the judges "broke" her with their criticisms. And so the judges sent Todd packing—cod and all.
"Being back on Top Chef Canada was a chance for me to continue to spread the world about Newfoundland and Newfoundland ingredients; that's one of the big reasons I came back," Todd said in an interview later.
"The thing for me in a competition like this is I might not be prepared to do All-Star food. I do what I do and I might not be what the judges are looking for. I'm okay with that. The dish tonight, I was happy with it. I've served it lots of times and this was one of the better versions that I've made. But it just didn't stack up to everybody else's; that's the way it works."
"Todd just failed to deliver. These were all flavours—the capelin, the cod—these are all flavours that he knows; they're all products that he knows how to work with," Nutall-Smith told us later on. "He was 100 per cent in his comfort zone and the dish just failed. This was a point where I really started wondering, 'What's happening with this guy? He knows better than this. He is a much better chef than this dish would suggest.' I think he also lost some confidence, some conviction in that competition. I think when we didn't appreciate his dish, I think that probably shook him a little bit."
Those are the breaks.
Well we appreciate your time, but that's a wrap on another week of the culinary competition, folks. We can't wait to see what worldly dishes the remaining chefs will pull out of their knife-blocks next week.
Extra Top Chef Canada: Watch this week's bonus scene featuring Andrea.