Pasta can be simple and rustic, or decadent and elegant. It can be dished up on a massive platter and passed around a boisterous table, or perfectly, artistically plated and served with pristine silverware and white linen.
Nicole's Goat Cheese Tortellini
For Top Chef Canada: All-Stars winner Nicole Gomes – as revealed in the finale last night – it was a key part of her five-course menu. The judges fell in love with her Goat Cheese Tortellini with Preserved Lemon, Ricotta Salata, Peas and Pancetta in a Butter Sauce (not to mention the other components of her Italian-themed dinner).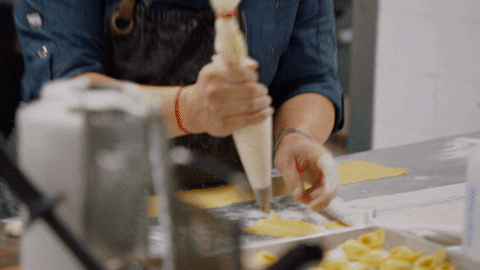 Nicole channeling her inner Italian nonna while prepping her tortellini.
Head judge Chef Mark McEwan highlighted Nicole's pasta as the best part of her finale menu. "Just her finesse on that meal was really extraordinary," he said.
Whether it's to impress a panel of
9. Store It If You're Not Cooking It Right Away
If waiting, divide the pasta into portions, dust with a little bit of flour to keep the noodles from sticking together and then make nest-like bundles on a baking sheet lined with parchment paper. Cover with a clean kitchen towel and set aside until ready.
10. Fresh Pasta Freezes Well
Fresh pasta can also be frozen for future meals. Just put the baking sheet of noodles into the freezer for about 15 minutes – to keep the pasta bundles from sticking together – and then transfer to a freezer bag, removing as much air as possible. Frozen pasta should be cooked directly from the freezer. Add about 30 seconds to 1 minute to the cooking time.