Pasta can be simple and rustic, or decadent and elegant. It can be dished up on a massive platter and passed around a boisterous table, or perfectly, artistically plated and served with pristine silverware and white linen.
Nicole's Goat Cheese Tortellini
For Top Chef Canada: All-Stars winner Nicole Gomes – as revealed in the finale last night – it was a key part of her five-course menu. The judges fell in love with her Goat Cheese Tortellini with Preserved Lemon, Ricotta Salata, Peas and Pancetta in a Butter Sauce (not to mention the other components of her Italian-themed dinner).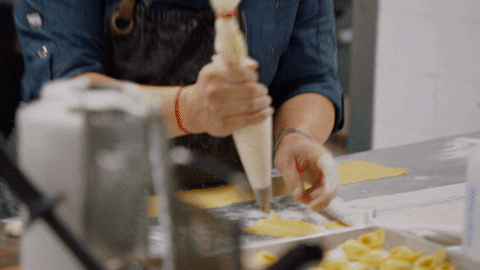 Nicole channeling her inner Italian nonna while prepping her tortellini.
Head judge Chef Mark McEwan highlighted Nicole's pasta as the best part of her finale menu. "Just her finesse on that meal was really extraordinary," he said.
Whether it's to impress a panel of Top Chef Canada judges or to feed the family at home – who, no doubt, can also be tough critics – pasta fits the bill. At its heart, no matter who's being served, it's the same basic dough; rolled, stuffed or cut in many ways and topped with sauce. The trick is having a good recipe (see our list below) and remembering these 10 essential tips and tricks:
1. Trust Your Gut
Making pasta from scratch is really more about a feeling, rather than measurements. Depending on the humidity, the flour, the size of the eggs, you may need more or less flour going along, so getting a feel for the dough is essential.
2. Traditional Is Best
The traditional way of making dough from scratch – with a well of flour, and the eggs and salt in the middle and using a fork to draw the flour slowly in to the liquid – ensures the perfect amount of flour gets added before kneading into a nice ball of golden dough.
3. But If You Don't Have Time… 
However, for those of us who prefer to use our stand mixers, simply hold back a bit of the flour and only add it when necessary, or add a spoonful or two of water if the dough is too dry.
4. Remember This Basic Ratio for Ingredients
As a general rule, the ratio is three parts flour to two parts eggs by weight. There are tons of variations on this, many depending on if you also want to add water, the type of flour (all-purpose versus durum semolina versus the finely-milled 00) and if you want to add a couple of additional yolks to the mix for a richer dough. (Water-only dough is also common.)  However, this basic ratio will serve you well.
5. Pasta Dough Needs To Be Kneaded
Once your dough is mixed, it's all about the kneading. It will take up to 10 minutes to transform the shaggy mix into a smooth and elastic ball.
6. Take A Rest
After kneading  it will be time for a rest – for both you and the dough! A little forethought here is key because you'll want to let the dough relax for at least an hour before proceeding. This will make it smoother and easier to deal with when rolling it out.
7. Salt Cooking Water Generously
Pasta water should be salted to taste like the ocean (or the Mediterranean!) – because that is going to flavour the noodles.
8. Never Rinse Your Pasta
Don't ever do this! If you rinse pasta after cooking, you rinse off the starch adhering to the noodles. That starch helps the sauce cling to the noodle.
9. Store It If You're Not Cooking It Right Away 
If waiting, divide the pasta into portions, dust with a little bit of flour to keep the noodles from sticking together and then make nest-like bundles on a baking sheet lined with parchment paper. Cover with a clean kitchen towel and set aside until ready.
10. Fresh Pasta Freezes Well
Fresh pasta can also be frozen for future meals. Just put the baking sheet of noodles into the freezer for about 15 minutes – to keep the pasta bundles from sticking together – and then transfer to a freezer bag, removing as much air as possible. Frozen pasta should be cooked directly from the freezer. Add about 30 seconds to 1 minute to the cooking time.